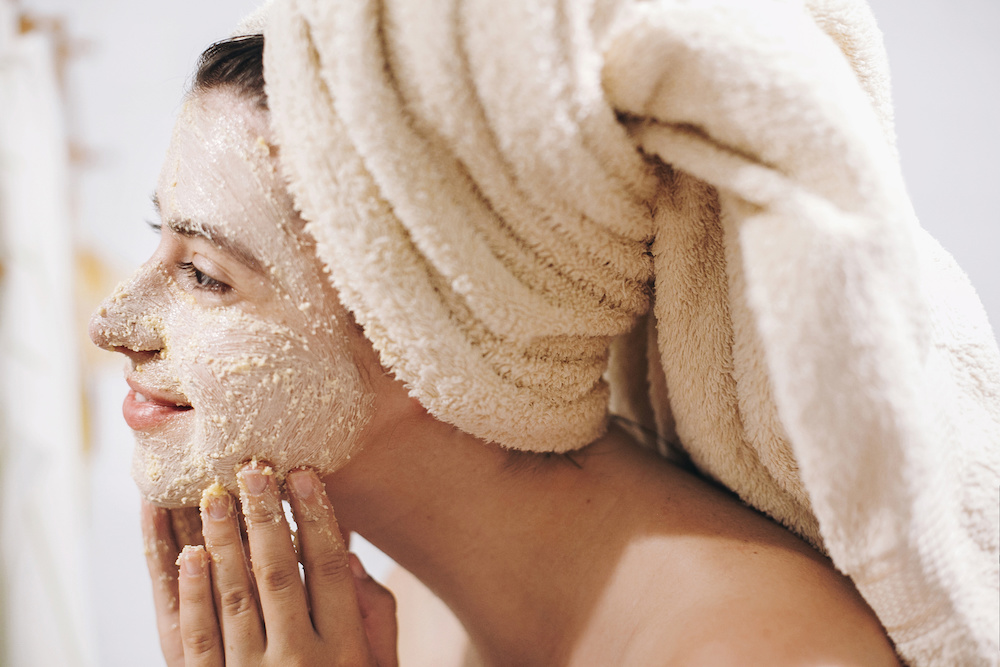 Are you a firm believer that exfoliation is the magic mantra for clear skin? You bet it is!
Simply washing your face does not completely remove the multiple layers of makeup, dirt, and oil on your skin, and they all end up inside your pores. Cleaning out your pores with regular exfoliation can help reduce breakouts, acne, and blackheads.
Consequently, to get the gods of clear skin to smile upon you, you'll need to get the perfect exfoliator that suits your skin. With so many choices in the market, we will help you out through this detailed Biore Pore Unclogging Scrub review. This product is available as a kit since it also comes with pore strips.
CHECK LATEST PRICE ON AMAZON.COM
Biore Pore Unclogging Scrub Review
Bioré is a well-known Japanese skincare brand founded in 1881 with modest beginnings. Aiming to produce affordable, high-quality products, Bioré started its range with facial soap.
After that, their versatile range has been extended with all kinds of beauty products, concentrating on deep, pore-level cleansing. One of their top-rated products is the Biore Pore Unclogging Scrub and Pore Strips Kit.
Features
Here are the things you'll expect from this kit:
The cleansing scrub is infused with small, colorful spherical beads that feel like soft rubble on your hands. These beads act as effective exfoliating agents to push out all the dirt clogged deep inside your pores, without damaging your skin. They also help remove flaky dead skin off your face to make room for new, healthier skin cells.
Spherical for a reason, these beads are minimally invasive even for dry, damaged, and sensitive skin. This means you can be concern-free about over-exfoliating or hurting yourself while using this scrub regularly.
The scrub works wonders for helping reduce acne and breakouts. As you know, clogged impurities are the main reasons for these pimples and blackheads.
Similarly, excess oil production accumulates inside the pores. This leaves the skin with no choice but to expel it out through nasty pimples.
The Bioré scrub has skin-friendly salicylic acid content. The acid works to penetrate pores to the deepest level and tackles oil build up. This means it easily clears up oily skin, controlling blemishes and pimples.
Along with comprising of diverse ingredients to serve every need, Bioré cleansing scrub is mild and gentle. That's because it contains all the ingredients in moderation. Some scrubs have excess salicylic acid which helps oily skin, but strips off normal and combination skin of its required moisture.
Also, some cleansers have a high-density exfoliating property, which means they're not recommended to be used regularly. With a perfect balance of both, you can use it as your daily go-to cleanser, regardless of your skin type.
You wouldn't want to use a product that you don't trust. The Bioré cleansing unclogging scrub is thoroughly tested by professional dermatologists to ensure safe usage. If you're constantly worried about damaging your skin when trying new products, this is the scrub for you.
The pore unclogging scrub aims to offer you visible changes in your skin within weeks. It targets the impurities accumulated in your pores, resulting in a healthy-looking complexion. Also, it works to leave your skin softer and smoother.
This package offered by the brand is amazing. At a reasonable price, you get two packs of Bioré unclogging scrub, with a free Bioré charcoal nose strip.
The cartilaginous skin around the nose is the most difficult to tackle when it comes to cleaning pores. The nose strip uses the natural power of carbon to pull the impurities out of your pores like a magnet. You can get rid of blackheads, oil, and blemishes on your nose painlessly and effortlessly with this strip.
Pros:
Deep cleaning
Great for everyday use
Suits all skin types
Reliable brand
Reasonable price
Con:
Summary
The Bioré Pore Unclogging Scrub is best at what it does, cleansing skin pores to their depths. It's a versatile product that you can use for all types of skin and treat all skin problems. It works particularly well with acne and serious breakouts.
It is also mild enough to be used every day and doesn't strip your skin out of its natural moisture. Thus, it leaves it looking naturally clearer and more radiant.
Comparison
Now that you know all about the Biore product through this Biore Pore Unclogging Scrub review, you'll probably set out and buy it for yourself at once. Wait! not so fast.
You should be informed about other products in the market to make a final decision. Here's another great product that we've compared with the Bioré Scrub to give a clear representation of its features.
AcneFree Blackhead Removing Exfoliating Face Scrub
CHECK LATEST PRICE ON AMAZON.COM
The AcneFree Blackhead Removing Exfoliating Face Scrub is another everyday cleanser for you to consider. It works to remove dirt and oil clogged inside your pores. Reaching deep inside your skin, it uses salicylic acid to clean it up thoroughly.
While the Bioré Scrub has a moderate amount of salicylic acid, this one uses its power to the optimum level. While that works great to tighten the pores, it strips the skin of its natural, essential moisture.
Besides that, it concentrates mostly on removing excess oil from your skin. This means if you have dry and flaky skin, this scrub might make your skin feel uncomfortable and itchy if used regularly. However, it's great for oily and acne-prone skin.
Most importantly, it costs more than the Bioré Scrub. Not only does it lack the versatility of the previous product, but it ceases to provide a reasonable package as well.
Conclusion
As evident in our Biore Pore Unclogging Scrub review, the Bioré Pore Unclogging Scrub is a versatile, go-to product for your everyday exfoliating needs. It's formulated to be the perfect solution to all your skin problems in one product.
While the AcneFree Scrub is a great option for oily and acne-prone skin, if you need a cleanser for regular use, the former is the one for you. Also, it'll cost you less than the AcneFree Scrub does for one pack, with a nose strip as well, so you get the complete value for your money.