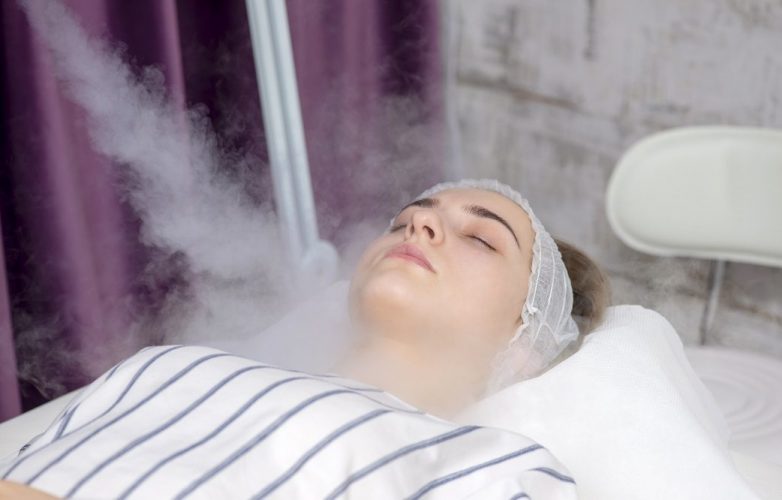 Having the best facial steamer means that you're one step closer to achieving a fresh face. Why is that? It's because you have in your hand the ability to do face detox any time you want to. Doing so can really help in removing dirt and gunk that tend to clog the pores.
We all know that when the pores are clogged, there is a high chance that it will lead to acne. Not only that but if there is a lot of oil buildup and dead skin on your face, it makes you look older than what you actually are. A facial steamer, thankfully, can help with both these problems.
Best Facial Steamer Reviews
With that said, we are going to take a look at three facial steamers and see which one is the best. We will discuss the features, pros, and cons to really see what is worth buying. Are you ready to have a rejuvenated face? Then keep on reading!
1. Pure Daily Care NanoSteamer
CHECK LATEST PRICE ON AMAZON.COM
This facial steamer makes use of nano ionic steam, which simply means that the heating element is combined with a vaporizer that is ultrasonic. This results in the steam coming out of it to have ionic particles that are negatively charged.
What this technology does is help the steam penetrate more effectively into the skin. This can also help with blood circulation, oxygen absorption, and skin vitality. Also, it can assist in draining clogged airways and sinuses.
The kit comes with five surgical-grade blemish and blackhead extractors that are made of stainless steel. These can help you complete your facial at home as the blackheads or blemishes are now easier to remove after using the steamer.
As for the device itself, it has a three-in-one function, which means that aside from being a steamer, it can also be used as a humidifier and as a refreshment since it has an extra chamber where you can put warm towels.
This device has a tank that can hold 200 ml of water, and it also has a working time of 30 minutes. Therefore, you can finish an entire face steaming session without having to recharge or refill the water. You also do not have to worry about the noise because it operates quietly.
Pros
Effective in unclogging sinuses
Steam is very gentle
Easy to use and set up
Has everything you need
Very relaxing
Cons
Has a plastic smell
Not that durable
Has the tendency to leak
Hard to determine where to position the face
Can spit out hot water
2. Amconsure Nano Ionic Facial Steamer
CHECK LATEST PRICE ON AMAZON.COM
This facial steamer is equipped with a smart chip. In addition to that, it powers up quickly. You just have to wait for at least 20 seconds, and you will immediately see a powerful mist coming out. It helps kill bacteria on the skin, restore the delicateness of the skin, and also help in the draining of airways and sinuses.
Aside from that, it also has an added aspect of helping to promote collagen production, improving blood circulation, making the skin look brighter, and improving the vitality of skin cells. It also claims to reduce blackheads and acne as well as fade pigmented spots.
What is also great to note about this product is that it is made of materials that are environmentally friendly. This is due to the fact that the ABS material is resistant to high-temperature flame. At the same time, it has a high gloss injection molding paired with piano paint, which will ensure you that the steamer will not melt even though you have been using it for a long time.
As for its operation, it is very simple. All you have to do is press a single button, and you are good to go. Lastly, it is small enough that you can put it practically anywhere, and it will not look like an eyesore.
Pros
Simple to use
Quick turnaround time
Gentle enough to be used every day
Lightweight and portable
Has everything you need
Looks nice
Effectively unclogs pores
Cons
Leaks every now and then
Smells like plastic
Steamer head is too small
Not that durable
Might be too small for some
3. EC Vision Nano Ionic Facial Steamer
CHECK LATEST PRICE ON AMAZON.COM
Just like the facial steamers that we have discussed, this one also has that special nano atomization technology, which makes it easier for the water particles to penetrate deeper into the skin. It not only assists in detoxifying the skin but in moisturizing it as well.
What is so special about this is that it has a UV light inside, which helps in sterilizing the steam. In order to activate the sterilization process, you just have to look for the high technology ozone function. This facial steamer has a working time of 12 minutes.
This device also comes with a tool kit to remove blackheads. All in all, you get five extractors that have different sizes. Some have needles while others have extractor loops. You can use these to help you remove comedones and extract pimples efficiently.
As for its heat source, it has a heating element that is made of PTC ceramic. This material can help in producing such strong steam without the risk of overheating. It also has a water tank that can hold up to 70 ml of water. Lastly, this steamer operates in silence.
Pros
Delivers a steady mist
Looks nice
Easy to use
Easy to set up
Effectively unclogs pores
Has everything you need
Cons
Can spew out hot water
Not that durable
Has slight leaking
Smells like plastic
Not that versatile
Which One Is the Best? 
If you ask us, the best facial steamer is the EC Vision Nano Ionic Facial Steamer. You might be surprised that we chose this one. After all, it is indeed the simplest one in the bunch. But then again, sometimes, simplicity is just what you need when the effect that you get is drastic.
Definitely, with this facial steamer, skin rejuvenation is just at your fingertips. It has a very straightforward user interface, but at the same time, it has a more straightforward effect on your skin. If you want clearer and brighter skin, this might just be what you need!