I recently heard of an 80 proof gin that says it can help prevent aging. It has a very suitable name, Anti-aGin, and it is a drinkable collagen. Collagen is important in helping skin stay firm and is very popular in anti-aging skincare products. The gin also contains other beneficial ingredients, such as chamomile, juniper, and licorice. It was created by the Warner Leisure Hotel in the UK and is also available for purchase online here. I haven't seen any US stores selling it, but the site does offer international shipping. This is a new product, so there have not been studies done on its effectiveness at this point. However, studies have been done on other drinkable collagen products, which did show some results. They can help with collagen density, reduce the appearance of wrinkles, and firm up the skin. Additionally, they can help reduce redness, clear up acne, and reduce dryness. These other drinkable collagens are more easily accessed, too. Below, we'll review some options.
Skinside Beauty Shots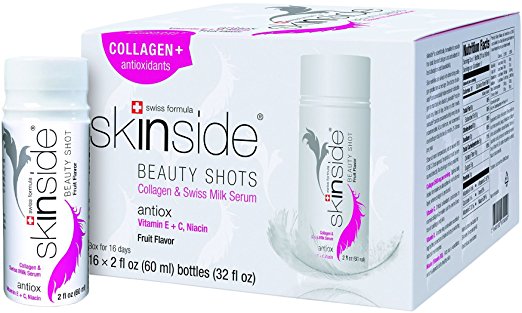 Skinside Beauty Shots is an evidenced-based drinkable collagen shot from Switzerland. In their trials, these beauty shots increased skin elasticity by 18% and procollagen by 65%in just 8 weeks. Additionally, 64% of people said they saw a reduction in redness. In addition to collagen, it includes Swiss milk, which is also known for aiding in creating beautiful skin, and vitamins, which can also help in proper absorption. The drink is fruit-flavored, which I happen to like, but others may not care for the taste. They are small, though (2 ounces), so they are just a quick shot. It is recommend to drink one shot daily, giving it at least 8 weeks to realize the full effects. However, many people start noticing the benefits sooner than this.
Goson Optimal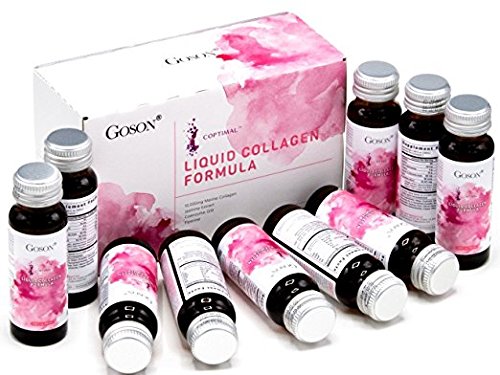 Goson Optimal uses a marine-based collagen, which is said to be better absorbed than cow or pig collagens, as well as be more efficient at reversing the signs of aging. In addition to collagen, it includes biotin, jasmine, piperine, and CoQ10. It has a citrus flavor to it and if you're worried about a fishy taste or aftertaste because it's marine-based collagen, don't be! You'll only get the citrus taste, which I tend to like. At a minimum, you should have half a bottle a day, but a full bottle a day is best. 
Applied Nutrition Liquid Collagen Skin Revitalization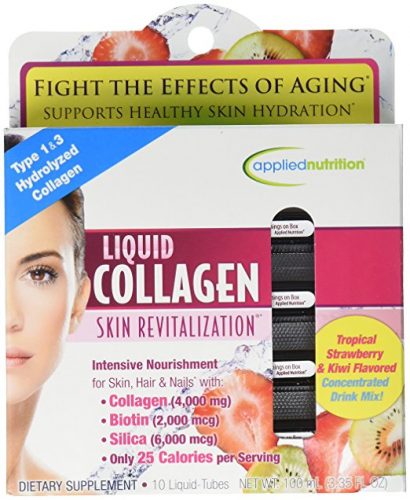 Applied Nutrition's liquid collagen is different from the others mentioned on this page in that rather than being directly drinkable, it is instead a concentrated liquid drink mix. The liquid should not be taken alone, but instead mixed into a large glass of water (about 16 ounces), aiding in overall hydration, which is great for the skin. It has a very nice kiwi and strawberry flavor to it. In addition to collagen, it includes a number of other great ingredients for your skin, such as biotin, vitamin A, and a number of super fruits. Limit yourself to one tube a day. This is a great choice if you have trouble drinking enough water each day or you want something that is easy to pack with you to have later in the day. 
---
So, what do you think? Would you be happy with your anti-aging skincare routine including drinking your collagen? If anyone else has tried these yet, please let us know in the comments!