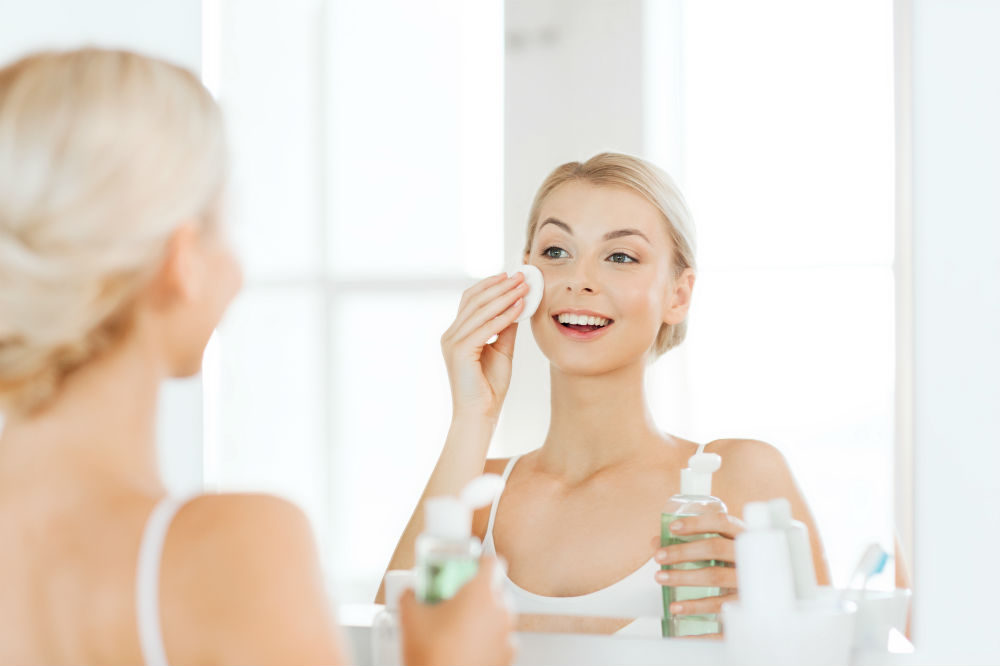 Toner is one of the products that every skincare junkie has in their beauty cabinet. You might not understand why it's needed if you're not using one, but one thing is for sure, it does wonders on the skin—if you use it properly. Thus, it is important to know how to use face toner.
With that said, we will provide you the basic and recommended way of applying toner. We will also tell you what toner is and why you need it. So, read on to find out and see if this is going to be an addition to your beauty regime!
What Is Toner?
Toner is a facial cleanser that does many good things on the skin. It removes dead skin cells, oil, and dirt, as well as keeps the face hydrated, lightens pimple marks, and tightens enlarged pores.
There are types of toner that contain alcohol ranging from 10% to 60%. The toner with the lowest alcohol content is the one that keeps the face hydrated, whereas the ones with the highest proportion of alcohol are known as astringent. Hence, always pick the right toner that suits your skin type.
What Are the Different Types of Toner?
Toner has different formulations for different skin types. They can either be super gentle or irritating on the skin, so it's essential for you to know what product would work best on your skin.
Generally, it is categorized as cleansing toner, acne toner, and hydrating toner or mist. Let's learn more about each of them below.
These are the products that have powerful ingredients and specially formulated for oily and acne-prone skin. This is the type of toner that unclogs pores and helps remove excess oil. In case you have active pimples all over the face, we suggest skipping the toner for the meantime as it may cause more irritation on your skin.
This type of toner helps keep the face hydrated, lock moisture, and refresh your complexion. These are the products that typically have mild ingredients and are designed to balance the skin's pH. They're mostly available in a spray bottle for easy application.
This is a two-in-one product. It acts as a cleanser to remove dirt, makeup residue, and other impurities and as a toner to moisturize the skin. This is the toner that most women are used to.
Choosing the Perfect Toner
To guide you better on selecting the perfect toner for your skin type, here's what you should look for when you do your toner shopping:
Oily skin: Look for a bottle of toner that has salicylic acid ingredient. It's even better if you'll use exfoliants, serums, or moisturizers with salicylic acid together with the toner.
Dry skin: Hydrating toner works best with this skin type. Look for toners with fermented yeast and amino acids to deeply hydrate and nourish the skin. Those toners with milk formulas are great, too, making the skin smooth and soft.
Wrinkled and sensitive skin: Get a product that is rich in antioxidants, soothing substances, and hydrating ingredients like rose water and glycerin.
How to Use Face Toner Properly
Toner efficiently does its job when used correctly. Remember, most bottles of toner act as a cleanser, so never apply your favorite face cream or best serum before the toner. It'll be a total waste of products.
With that being said, this section covers the simple steps on how to use toner correctly. Believe it or not, the toner application will only take a minute or less.
Wash your face using your favorite facial cleanser. Use warm water when rinsing the face.
Pat your face dry with a clean cloth or towel.
Pour the toner on a cotton ball or pad until it's damp enough.
Apply the toner evenly across your face and make sure to target the sides of the nose and the T-zone area. Avoid the eye and lip area.
After toner application, leave it for a minute then you can follow it with a serum or face cream for extra moisture.
You can include the toner in your skincare regime day and night following the same steps.
Why Do You Need to Use Toner?
Since toner is so easy and fast to use, yet it offers many beauty benefits, it's available from mild to strong ingredients to match your skin type. All the good stuff that it can do to your skin can be found in just one bottle. Some of which include:
Detoxifies the skin that helps your skin to look brighter and healthier
Tightens the pores to prevent the skin from clogging and producing too much oil
Hydrates and replenishes your skin
Balances the pH from making your skin too dry or too oily.
Prepares your skin thoroughly for the next step of your routine
Helps absorb serums and emulsions because they are properly balanced
However, if you're a minimalist, you may think that you don't need a toner. The problem here is, sooner or later, you might get pimples if you only rely on facial cleanser alone.
It sometimes leaves dirt behind without you knowing it. As such, try to use a toner for once, and you'll know what we mean.
In addition, if you want to have healthy skin, always begin it in deep cleansing. Although it takes a little effort to remove all the dirt and residue on your skin completely, it surely leaves you a clean face!
Final Thoughts
Toner may not be all women's Holy Grail, but it's one of the valued skincare products for many. It has many purposes and benefits that it can provide to your skin. It can be used whatever your skin type is, and it's a good alternative when you've got crappy cleanser.
Although you'll find many brands of toner on the market today, whether or not a popular one, what's important is you're picking the right one with the right ingredients for your skin.
What's more important is that you know when and how to use face toner. So if you finally find a glorious bottle of toner that you undoubtedly love, apply it correctly.